Complete Issue
Author: D. Kelly Weisberg.
Source: Volume 19, Number 02, December/January 2014 , pp.17-32(16)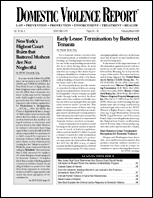 < previous article |return to table of contents
Abstract:
This is the complete issue, Volume 19 Number 2. It includes the full text of all the articles listed above, with hyperlinks from table of contents entries to articles and linked article continuations, to facilitate reading.
Keywords: southern district of New York denies return of 15 year old; Jakubik v. Schmirer, 2013 WL 3866636 (S.D.N.Y. 2013); Eastern District of New York Denies Return of Well-Settled Siblings Despite No Grave Risk; Broca v. Giron, 2013 WL 3745985 (2d Cir. 2013

Affiliations: 1: Journal Editor, DVR.