States Should Adopt Colorado Custody Reform Prioritizing Child Safety in "Best Interests" Test
Author: Staff Editors.
Source: Volume 19, Number 02, December/January 2014 , pp.20-21(2)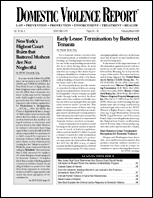 < previous article |next article > |return to table of contents
Abstract:
20The cover story of the last issue, 19[1] DVR 1 (Oct/Nov 2013) featured an article on Colorado's groundbreaking child custody law reform statute, "Colorado Passes Milestone Child Custody Law Reform," by Amy Miller. DVR subsequently received a letter commenting on that reform, which is published here.
Keywords: Letter to the Editor emphasizes the importance of Colorado's innovative approach; by Allen M. Bailey, J. D.; most progressive legislation in the United States to increase protections for domestic violence and child abuse victims involved in child c

Affiliations: .