Book Review: How to Talk to Children About the Serious Nature of Family Violence
Author: Anne L. Perry.
Source: Volume 19, Number 03, February/March 2014 , pp.37-39(3)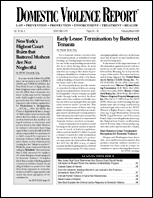 < previous article |next article > |return to table of contents
Abstract:
This column reviews several children's books dealing with the subject topic. Talking to children about domestic violence is not easy, but it is imperative. Fortunately, there are several books written for children that explain domestic violence, answering their questions with honesty and sensitivity, and helping children to understand their own emotional responses. These books are important resources for parents, caregivers, teachers, social workers, and any persons who care for and about children. It also discusses Lundy Bancroft's, "When Dad Hurts Mom: Helping Young Children Heal the Wounds of Witnessing Abuse" (Penguin, 2004).
Keywords: "Mommy's Black Eye", by William George Bentrim, Christi Schofield, Illustrator; "A Terrible Thing Happened", by Margaret M. Holmes, Cary Pillo, Illustrator; "Hear My Roar: A Story of Family Violence", by Gillian Watts, Ben Hodson, Illus

Affiliations: .