Police-Perpetrated Domestic Violence: An Advocate's Pessimistic Perspective
Author: Diane Wetendorf.
Source: Volume 19, Number 03, February/March 2014 , pp.35-36(2)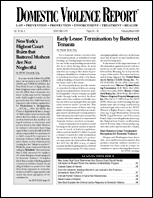 < previous article |next article > |return to table of contents
Abstract:
Newspapers have been full of stories lately about "batterers in blue"—police officers who assault their intimate partners. The New York Times recently ran a lengthy story about the death of a 24-year-old mother in St. Augustine, Florida, who was allegedly killed by her deputy-sheriff boyfriend. (Walt Bogdanich & Glenn Silber, Two Deaths on a Summer Night, 11/23/13 at A-1) Police investigators ruled her death a "suicide" despite vehement denials by her relatives. The New York Times story evokes questions about whether there has been any progress in the law's response to the phenomenon of officer initiated domestic violence. National expert Diane Wetendorf addresses this issue in this commentary.
Keywords: Lautenberg Amendment holds police officers to the same standard as ordinary citizens by prohibiting them from owning a firearm if they have been convicted of a misdemeanor crime of domestic violence; police perpetrator; characteristics of a batterer

Affiliations: 1: advocate and author.