Lipstick and Guns: What Do They Have in Common?
Author: D. Kelly Weisberg.
Source: Volume 19, Number 03, February/March 2014 , pp.33-34(2)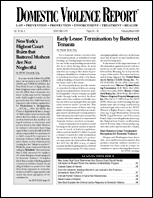 < previous article |next article > |return to table of contents
Abstract:
Women often buy guns for the men in their lives, particularly if these men are unable to purchase the firearms themselves because of their criminal records. For example, in a case currently before the Supreme Court and discussed in our lead article in this issue, James Castleman was prohibited from possessing a firearm under federal law because of a prior conviction for misdemeanor domestic violence. In order to conduct his gun-running business, Castleman asked his wife to buy the guns for him from dealers so that he could then sell the firearms on the black market. And Mrs. Castleman did as her husband asked—and committed a crime herself. A newly formed organization attempts to stop women like Mrs. Castleman from helping offenders buy guns.
Keywords: Operation L. I. P. S. T. I. C. K. (Boston, MA); Ladies Involved in Putting a Stop to Inner-City Killings; straw purchasers

Affiliations: 1: Journal Editor, DVR.