Intimate Partner Violence: Spotlight on Victimization, 1993-2011
Author: Staff Editors.
Source: Volume 19, Number 03, February/March 2014 , pp.39-39(1)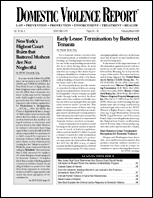 < previous article |next article > |return to table of contents
Abstract:
This statistical column is derived from the recently released National Crime Victimization Survey (NCVS), by the U.S. Census Bureau for the Bureau of Justice Statistics (BJS). This nationally representative study is a self-report survey administered every six months to persons age 12 and older. The sample consisted of 143,120 persons from 79,800 households. Respondents are queried about the number and characteristics of all victimizations they have experienced within the past six months.
Keywords: serious non-fatal violence broken down; sexual violence; more females than males murdered by intimate partner

Affiliations: .