Defining and Measuring Legal Abuse as a Form of Coercive Control
Author: Ellen R. Gutowski, PhD.; Alena Lawrence.; Lisa A. Goodman.
Source: Volume 28, Number 03, February/March 2023 , pp.35-39(5)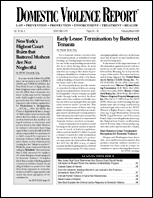 < previous article |next article > |return to table of contents
Abstract:
The process of ending an abusive relationship is especially difficult for parents who may need to negotiate child custody or access and other post-separation legal concerns with the person who abused them. Many in this position are hoping to establish safety for themselves and their children but instead experience legal abuse, that is, a continuation of their ex-partner's abuse through legal processes. There is growing recognition of the harms of legal abuse in the family and civil court systems, yet this form of abuse still can go undetected and unaddressed by judges, evaluators, and other court actors. When undetected, the consequences of legal abuse can be damaging to the mental health, safety, and economic security of survivors. For some, the outcomes of legal abuse may be tragic: News reports have covered painful accounts of homicide in the context of legal abuse. To prevent such devastating consequences and ensure safety and justice for families, it is imperative that we enhance efforts to define, identify, and measure legal abuse. Key to such efforts is a need to conceptualize legal abuse within the context of existing dynamics of coercive control. This article defines coercive control, reviews existing research on legal abuse as a form of extended coercive control, presents the Legal Abuse Scale (LAS), a self-report instrument developed to measure legal abuse as a form of coercive control, and then discusses directions for future research and practice on the topic.
Keywords: Coercive Control; Legal Abuse Scale (LAS); Care Time; Unsafe Access to Children

Affiliations: 1: University of Toronto; 2: University of Toronto; 3: Boston College.