Domestic Violence, Litigation Abuse, and California's New Laws on Vexatious Litigants and Attorneys' Fees
Author: Cory Hernandez.
Source: Volume 28, Number 03, February/March 2023 , pp.37-40(4)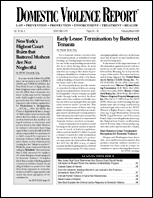 < previous article |next article > |return to table of contents
Abstract:
A survivor is particularly susceptible to an abuser's misuse of the legal system because, by design, litigation is adversarial. Too often, an abuser attempts to weaponize the legal system to deliberately cause a survivor emotional and financial hardship, among other serious harms. This article explores the nature of litigation abuse and evaluates whether court processes designed to ensure access to justice also adequately protect participants from abuse and highlights which states are actively taking steps to curb it. It also focuses on specific steps taken in California to address litigation abuse.
Keywords: Family Violence Appellate Project; Attorneys' Fees and Cal. AB 2369; Vexatious Litigants and Cal. AB 2391

Affiliations: 1: Family Violence Appellate Project.