Judicial Approaches to Curb Litigation Abuse
Author: Julie Saffren.; Hon. Eugene M. Hyman (ret.).
Source: Volume 28, Number 03, February/March 2023 , pp.46-48(3)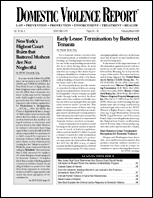 < previous article |next article > |return to table of contents
Abstract:
In any court, judges have both the authority and duty to facilitate the orderly administration of justice. At the same time, judges must ensure litigants have access to the courts and are treated fairly by a neutral arbiter. Unfortunately, abusive litigation tactics occur regularly in our courts, especially in domestic violence matters, where abusers may attempt to weaponize the justice system. This article explains how and why judges already have tools at their disposal they can and should use to prevent litigation abuse, part of their inherent authority to ensure the administration of justice and also provided for in specific statutes or court rules. In addition to summarizing the available tools, the article provides many examples illustrating the language judges might use in order to curb litigation abuse in their courts.
Keywords: Limiting Case Presentation; Denying Continuances When Good Cause Is Absent; Limiting Abusive Discovery; Deeming a Litigant Vexatious

Affiliations: 1: Associate Editor; 2: Santa Clara County Courts (ret.).