When the Family Court Becomes the Continuation of Family Violence After Separation: Understanding Litigation Abuse
Author: Robert Nonomura.; Nick Bala.; Kennedy Beacock-McMillan.; Andrew Au-Yeung; Peter Jaffe.; Lisa Heslop; Katreena Scott.
Source: Volume 28, Number 03, February/March 2023 , pp.33-38(6)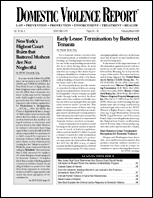 next article > |return to table of contents
Abstract:
Social science research and survivor advocacy has established that abusive partners often use the family court process as a tool for exercising continuing coercive control over a former partner. Such actions cause ongoing harm to survivors and their children and waste the time and resources of the family justice system. However, it is not always clear when "litigation abuse" is occurring, and understanding how these behaviors are an aspect of family violence (FV) that is not yet widespread among lawyers and other family justice professionals. This article examines the features of litigation abuse and ways in which justice system professionals can identify and respond effectively to cases involving litigation abuse.
Keywords: Litigation Abuse as Coercive Control

Affiliations: 1: Western University; 2: Queen's University, Kingston; 3: Queen's University, Belfast; 4: Centre for Research & Education on Violence Against Women & Children (CREFAWC); 5: CREFAWC.