Update on VAWA Reauthorization
Author: Casey Gwinn.
Source: Volume 27, Number 04, April/May 2022 , pp.51-52(2)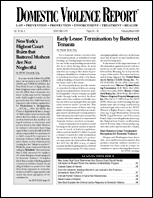 < previous article |next article > |return to table of contents
Abstract:
This article reviews the major provisions of VAWA 2022, with a special focus on those addressing victims who are criminalized by failed intervention system processes. It includes a discussion of firearm protections and the "Boyfriend Loophole", and on provisions requiring that restorative practices funded by OVW must use a validated risk assessment tool such as Mosaic Method (Gavin DeBecker) or the Danger Assessment (Jackie Campbell).
Keywords: "Boyfriend Loophole"; Restorative Practice; National Task Force to End Sexual and Domestic Violence (NTF); Office on Violence Against Women (OVW)

Affiliations: 1: Alliance for Hope International.