VAWA Reauthorization Act of 2022: Tribal Provisions
Author: U.S. Senate Committee on Indian Affairs.
Source: Volume 27, Number 04, April/May 2022 , pp.53-54(2)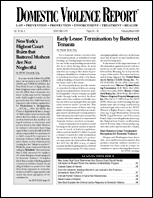 < previous article |next article > |return to table of contents
Abstract:
The VAWA Reauthorization Act contains provisions that increase access to safety and justice for Indian survivors. Significantly, the Act expands tribal jurisdiction powers over non-Indians who commit assault of tribal justice personnel, child violence, dating violence, obstruction of justice, sexual violence, sex trafficking, stalking, in addition to domestic violence offenders. The tribal provisions are summarized here.
Keywords: VAWA Reauthorization Act of 2022 Title VIII

Affiliations: 1: Offices of Chairman Brian Schatz and Vice Chairman Lisa Murkowski.