New Study Reports Nearly 1,800 Women Murdered by Men in One Year
Author: Violence Policy Center.
Source: Volume 27, Number 04, April/May 2022 , pp.68-68(1)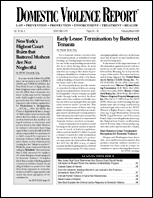 < previous article |next article > |return to table of contents
Abstract:
The body of this article appeared as a Press Release from the Violence Policy Center. The Violence Policy Center is a national educational organization working to stop gun death and injury Reprinted with permission. For a PDF version of the study, visit http://vpc.org/studies/wmmw2021.pdf.
Keywords: 2019 Homicide Data; Federal Bureau of Investigation's Supplementary Homicide Report

Affiliations: 1: VPC.org.