Case Summaries
Author: Anne L. Perry.; Julie Saffren.
Source: Volume 26, Number 06, August/September 2021 , pp.83-87(5)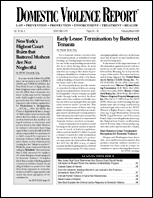 < previous article |next article > |return to table of contents
Abstract:
Our regular review of important court decisions includes appellate rulings ordering a new trial for woman convicted of manslaughter where battered spouse syndrome jury instructions were improper; a Fifth Circuit ruling that acts constituting violations of two protection orders supports two convictions under the Violence Against Women Act; a Vermont ruling that whether defendant was read Miranda rights was not relevant to conviction for resisting arrest during service of protection order; a conviction for attempted murder of police officer on domestic violence call upheld over challenge to search warrant; and a California case in which an abusive husband was convicted of making criminal threats for phone calls he made to his wife's attorney. Included State v. Elzey, 244 A.3d 1068 (Md. Ct. App. 2021); U.S. v. Cline, 986 F.3d 873 (5th Cir. 2021); State v. Spencer, 2021 WL 298788 (Vt. 2021); State v. Espejo, 16 Wash.App.2d 1029 (Wash. Ct. App. 2021); People v. Roles, No. C086645 (Cal. Ct. App. 2020).
Keywords: Battered Spouse Syndrome; Protection Orders; Batterer Threats to Attorneys

Affiliations: 1: Contributing Editor; 2: Associate Editor.