Domestic Violence via the Internet of Things
Author: Madison Lo.
Source: Volume 26, Number 06, August/September 2021 , pp.81-84(4)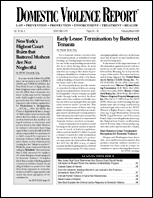 next article > |return to table of contents
Abstract:
As usage of networked devices grows, consumers and businesses have voiced concerns over privacy and security issues such as massive data generation that leaves sensitive information vulnerable to hackers and unwanted data collection by technology companies. However, they have neglected to consider the privacy, security, and safety risks for survivors of domestic violence specifically. Even if designers of IoT devices added security features to protect against third-party intrusion, the devices still assume that all users within a household trust each other to use the devices properly. But in homes where domestic violence occurs, this assumption is dangerous. Abusers could install IoT devices and misuse the features to monitor, harass, threaten, and isolate survivors. They might know the survivors' passwords or at least have a greater chance at guessing them due to knowledge gained during former partnership or cohabitation. Or, they might have insisted that their partner share the passwords during the relationship. This article explains the unique implications of IoT-facilitated abuse, explores current remedies in civil and criminal law and whether existing remedies are sufficient, and offers several suggestions for reform.
Keywords: Internet of Things (IoT) Devices

Affiliations: 1: University of California, Berkeley, School of Law.