Analysis of the Historic Court of Appeal Case on the Family Court and Violence Against Women
Author: Charlotte Proudman.
Source: Volume 26, Number 06, August/September 2021 , pp.85-89(5)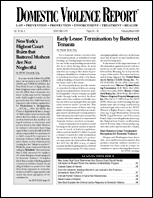 < previous article |next article > |return to table of contents
Abstract:
Earlier this year, the U.K. Court of Appeal considered appeals in four cases which raised similar issues concerning family court judgments involving children's welfare in cases of domestic violence. (The Court of Appeal is the highest court within the Senior Courts of England and Wales.) Around 40% of children cases in Family Courts involve allegations of domestic abuse. In 2019/2020 that amounted to 22,000 cases. In a conjoined [consolidated] appeal, four mothers argued at a rare public hearing that the Family Court minimized allegations of domestic abuse and adopted victim-blaming attitudes and rape myths. For the first time in 20 years, the Court of Appeal reviewed the Family Court's failure to address the impact of rape, domestic abuse, and coercive control on victims' and children's lives. The Court set out general guidance for the Family Courts to consider when addressing these allegations and the risk of harm to a child and parent. In these important cases, the Court took the opportunity to give general guidance about matters which commonly arise in the Family Court involving cases of domestic violence. Charlotte Proudman, counsel for the appellants in two of the four cases, shares a detailed analysis and criticism of these cases.
Keywords: UK Family Court Cases and Domestic Violence

Affiliations: 1: Goldsmith Chambers.