Book Review: "Intimate Lies and the Law" by Jill Elaine Hasday
Author: Julie Saffren.
Source: Volume 26, Number 04, April/May 2021 , pp.55-57(3)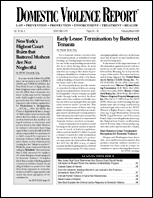 < previous article |next article > |return to table of contents
Abstract:
DVR's Associate Editor Julie Saffren examines the issues raised by a new book, Intimate Lies and the Law by Jill Elaine Hasday, which explores the lack of legal remedies afforded to victims harmed through the deception and misrepresentation perpetrated by intimate partners or close family members. Hasday believes the way current law functions serves not only to protect and enable deceivers, but possibly even to incentivize harmful deceptive behavior because deceivers can get away with it. This should change and this book can start that conversation.
Keywords: Intimate Lies and the Law

Affiliations: 1: Santa Clara Univ School of Law.