Jewish Divorce Denial Serves as a Form of Domestic Abuse
Author: Keshet Starr, Esq..
Source: Volume 26, Number 04, April/May 2021 , pp.53-55(3)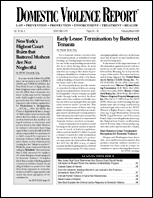 < previous article |next article > |return to table of contents
Abstract:
This article explores the limited options available to Orthodox Jewish women unable to obtain a "get" or divorce from an unwilling husband. The get is a Jewish divorce document, separate from a civil divorce judgment. Today, the get is issued before a rabbinic tribunal known as a beth din. The husband must issue the get by his own free will, and the wife must similarly accept the get. Once the ceremony is complete, the parties are free to remarry under Jewish law. The implications for the woman of not receiving a get are severe. "Without a get, no matter how long the couple is separated, and no matter how many civil documents they may have in their file cabinet, in the eyes of Jewish law the couple is still 100% married."
Keywords: Orthodox Jewish Divorce

Affiliations: 1: Organization for the Resolution of Agunot.