Case Summaries: DV and Employment Law
Author: Anne L. Perry.; Julie Saffren.
Source: Volume 26, Number 04, April/May 2021 , pp.57-59(3)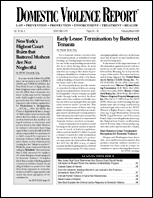 < previous article |next article > |return to table of contents
Abstract:
Our regular review of important court decisions includes rulings involving the interplay of domestic violence and employment law. Included are a ruling from California upholding a termination of employment due to domestic violence arrest (Tilkey v. Allstate Ins. Co., 56 Cal. App. 5th 521 (Cal. Ct. App. 2020); and two decisions involving the dismissal of public safety officers after charges of domestic violence (Bolling v. City of Montgomery and White v. Las Vegas Metropolitan Police Dept.
Keywords: Domestic Violence and Employment Law

Affiliations: 1: Contributing Editor; 2: Associate Editor.