Our System Needs Reforming, Not Dismantling
Author: Michael Paymar.
Source: Volume 26, Number 03, February/March 2021 , pp.35-37(3)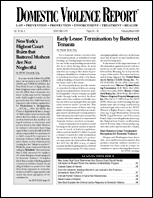 < previous article |next article > |return to table of contents
Abstract:
Michael Paymar worked with the late Dr. Ellen Pence, the founder of the Duluth Domestic Abuse Intervention Project (DAIP), on a "Coordinated Community Response (CCR) to domestic violence cases, which came to be known as Duluth Model. The author's work at the DAIP primarily consisted of working with IPV offenders, where he observed or participated in the various elements of the CCR, ensuring offenders completed rehabilitation classes, networking with advocates to further the safety of survivors, and interacting with the courts. In the author's view, based on his experience working with DV and later as a legislator, in order to reform law enforcement and protect our communities, law enforcement agencies must move from their current "warrior culture" to actually serving and protecting citizens. Accountability for officer misconduct must be paramount. Beyond policing, we need a "Marshall Plan" of public investments to address poverty, housing, employment opportunity, education, and economic development along with crime prevention efforts that are community-based.
Keywords: Duluth Domestic Abuse Intervention Project (DAIP); community policing

Affiliations: 1: Education for Critical Thinking (ECT).