DV and Bail Reform
Author: Casey Gwinn, J.D..; Gael Strack.
Source: Volume 26, Number 03, February/March 2021 , pp.40-43(4)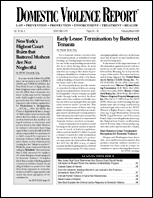 < previous article |next article > |return to table of contents
Abstract:
Among the principle targets of justice reform are unfair and unjust bail practices. An entire industry has grown up around bail and has fought to protect itself from reformers who correctly view the system as racially biased. In the rush to eliminate bail, however, dangerously violent abusers have been released by the courts and resumed their abusive ways, in some cases killing their victims and themselves within days or hours of release. Bail reform is necessary, but irrespective of the color of your skin or the size of your pocketbook, if you are a dangerous, rage-filled man assaulting (and strangling) women, you deserve to face incarceration. When dangerous abusers are released without security precautions, women are going to experience the rage, sexual and domestic violence, and misogynistic harassment and abuse of men at increased rates. Bail and jail reform without accountability for domestic and sexual violence offenders is a license to abuse and kill women.
Keywords: Domestic Violence, Bail Reform, Decriminalizing Domestic Violence, Criminal Justice Reform

Affiliations: 1: Alliance for HOPE International; 2: Alliance for HOPE International.