Joe Biden's History Keeping Women Safe from Domestic Violence
Author: Caroline Bettinger-Lopez.
Source: Volume 26, Number 03, February/March 2021 , pp.39-39(1)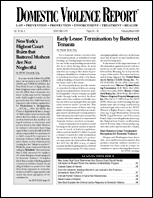 < previous article |next article > |return to table of contents
Abstract:
The author was the White House Advisor on Violence Against Women, a position created under President Obama's administration—and eliminated by President Trump's. In this brief retrospective, she explains why President Joe Biden is committed to gender-based law reform, and what that will mean for the country.
Keywords: White House Policy on DV

Affiliations: 1: University of Miami School of Law.