The Article 13(b) Guide to Good Practice
Author: Merle H. Weiner.
Source: Volume 25, Number 01, October/November 2019 , pp.7-9(3)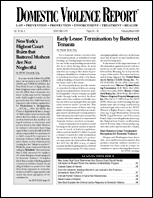 < previous article |next article > |return to table of contents
Abstract:
In 2012, State Parties to the Hague Convention on the Civil Aspects of International Child Abduction recommended the creation of a Guide to Good Practice (Guide) on the article 13(b) "grave risk" defense. When the final version is published in 2020, this Guide will join previous guides created by the Permanent Bureau to facilitate the Convention's implementation, although this newest Guide will have a decisively different emphasis. Earlier guides were aimed at preventing and remedying abduction; the new Guide is concerned with an exception to States' obligation to return abducted children. While it should be of interest to those who work with survivors of domestic violence, the author of this article, who attended several of the Special Sessions leading up to the Guide, read several drafts of the Guide, participated in the public comment process, and reviewed the State Department's last set of comments, believes that the Guide will ultimately prove a disappointing document. In this article, she reviews the draft versions circulated for review and comment, and analyzes the problems and omissions that are likely to produce an unsatisfactory finished product.
Keywords: Article 13(B) "Grave Risk" Defense

Affiliations: 1: University of Oregon.