Seeking Safety in America: The Hague Domestic Violence Technical Assistance Project
Author: Sudha Shetty.
Source: Volume 25, Number 01, October/November 2019 , pp.8-9(2)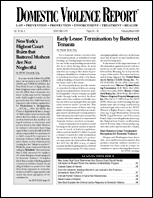 < previous article |next article > |return to table of contents
Abstract:
This article reviews the goals, techniques, and practices of "The Hague Domestic Violence technical assistance project" (HagueDV.org), established by the author almost two decades ago at Seattle University School of Law's Access to Justice Institute (AtJI) and replicated subsequently at the University of Minnesota Humphrey School of Public Affairs and now the Goldman School of Public Affairs at the University of California, Berkeley. It was in response to a mother who had fled to Seattle with two young children to escape her violent husband in Europe. Despite an international treaty that condemns international child abduction, the U.S. embassy had assisted her to escape the violence. When the mother sought help at the AtJI clinic, no one there had heard of the Hague Abduction Convention. The author created a project within AtJI that brought volunteer attorneys and law students together to provide assistance to battered mothers and their children who were fleeing across international borders to safety.
Keywords: Access to Justice Institute; Hague Abduction Convention

Affiliations: 1: University of California, Berkeley.