The Role of Expert Witnesses in Proving Grave Risk to Children
Author: Jeffrey L. Edleson.
Source: Volume 25, Number 01, October/November 2019 , pp.5-7(3)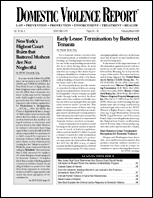 < previous article |next article > |return to table of contents
Abstract:
The opening lines of the Hague Convention and its exceptions clearly suggest one goal of the treaty is furthering children's well-being. Many expert witnesses come to Hague Convention cases with a history of assessing the "best interests" of a child in domestic custody disputes and testify accordingly. However, as Perez-Vera and others have argued, the courts in a child's country of habitual residence must be the forum in which custody and other aspects of access are decided. What expert witnesses often do not recognize is that their testimony in a Hague Convention case is not to aid a custody decision but rather an effort to establish for the judge whether the child would, consistent with article 13(b), face a grave risk of exposure to physical or psychological harm if he or she were to be returned to the country of habitual residence. The expert can be useful for establishing that the abuse to the child and/or the mother occurred and, in the case of domestic violence, showing that returning the child would pose a grave risk of continued physical or psychological harm to the child.
Keywords: Hague Convention "Grave Risk to Child" Requirement; Article 13(b)

Affiliations: 1: University of California, Berkeley.