Saada v. Golan: Ignoring Red Flags of Danger and Meaning of Protection From "Grave Risk"
Author: Lynn Hecht Schafran.
Source: Volume 25, Number 01, October/November 2019 , pp.3-6(4)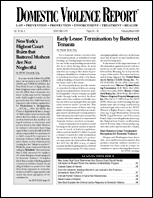 < previous article |next article > |return to table of contents
Abstract:
In the recently decided Hague Convention case of Saada v. Golan, the Second Circuit Court of Appeals wrote, "[W]e address the scope of a district court's discretion to direct that a child be returned where 'there is grave risk of harm that his or her return would expose the child to physical or psychological harm or otherwise place the child in an intolerable situation." The Second Circuit is known for pressing for return even in cases with a finding of "grave risk," using so-called "ameliorative measures" or "undertakings." The left-behind parent "undertakes" to live by a list of conditions rarely enforceable by the country imposing them, and typically enforceable in the country of habitual residence only after entry of a mirror order. Undertakings are not part of the Convention. They are a judge-made invention based on the erroneous assumption that the left-behind parent, who by his own behavior created the grave risk, will overnight reform and live by a set of conditions wholly out of step with his past behavior. The District Court found that Mr. Saada's abuse of his wife was vicious and relentless, and the child's need for protection clear. But the Second Circuit reaffirmed its commitment to undertakings in the name of comity, creating such a high barrier to a finding of their inadequacy that the taking parent will seldom be able to leap it.
Keywords: "Ameliorative Measures"; "Undertakings"

Affiliations: 1: Legal Momentum.