Suicide Risk in Domestic Violence Victims
Author: Tony Salvatore, MA.
Source: Volume 24, Number 06, August/September 2019 , pp.89-90(2)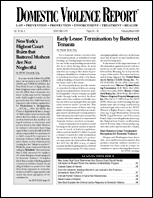 < previous article |next article > |return to table of contents
Abstract:
This article examines the ways in which domestic violence fosters suicide risk and suicidal behavior. Some victims of domestic violence make suicide threats and plans. Others make attempts and some die by suicide. The suicide risk present in those exposed to domestic violence does not get the attention that it warrants. Dying by their own hand must be regarded as much a danger to domestic violence victims as dying at the hands of their abusers. The "Interpersonal Psychological Theory of Suicide" (IPPT) proposes two prerequisites to a potentially fatal suicide attempt: (i) an extremely strong desire to die; and (ii) the capability for lethal self-harm.16 Exposure to mistreatment may make one indifferent to living. Resistance to both thoughts and acts of self-harm may weaken as abuse worsens.
Keywords: Interpersonal Psychological Theory of Suicide (IPPT)

Affiliations: 1: Montgomery County Emergency Service.