Robbed of Hope: Is the Suicide of a Battered Woman Murder?
Author: Gael Strack.; Casey Gwinn.
Source: Volume 24, Number 06, August/September 2019 , pp.91-94(4)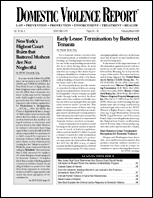 < previous article |next article > |return to table of contents
Abstract:
In an unusual prosecution, a county attorney in Minnesota filed murder charges against an abusive husband for the suicide of his estranged wife—called a "depraved heart murder" which doesn't require prosecutors to prove intent to kill, but rather proof that his actions showed extreme indifference to human life. This article examines the facts in this case, and analyzes the potential this kind of prosecution may have in preventing and punishing domestic violence.
Keywords: "depraved heart murder" prosecution; strangulation

Affiliations: 1: Alliance for HOPE International; 2: Alliance for HOPE International.