Case Summaries
Author: Anne L. Perry.; Julie Saffren, J.D..
Source: Volume 24, Number 05, June/July 2019 , pp.73-76(4)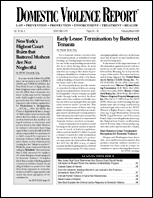 < previous article |next article > |return to table of contents
Abstract:
Our case summaries this issue review appellate rulings dealing with the admissibility at trial of prior bad acts; a case in which property damage was prosecuted as a domestic violence offense; a case in which the presence of domestic violence was not considered in the division of property in divorce; and an appellate ruling that drug use during pregnancy did not constitute child abuse. Cases: Richards v. State, 432 P.3d 167 (Nev. 2018); Phoenix City Prosecutor v. Lowery, 430 P.3d 884 (Ariz. 2018); Fletcher v. Fletcher, 433 P.3d 1148 (Alaska 2018); Matter of Guardianship of I.L.J.E., 921 N.W.2d 463 (S.D. 2018); In re Interest of L.J.B., 199 A.3d 868 (Pa. 2018).
Keywords: Admissibility of prior bad acts; criminal damage prosecuted as domestic violence offense; domestic violence and property division in divorce; drug use during pregnancy

Affiliations: 1: Contributing Editor; 2: Associate Editor.