State Laws Now Recognize Canadian Protection Orders
Author: D. Kelly Weisberg.
Source: Volume 24, Number 05, June/July 2019 , pp.75-75(1)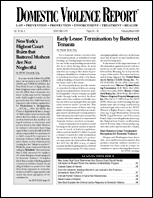 < previous article |next article > |return to table of contents
Abstract:
Five states now honor Canadian domestic violence protection orders in the same way as a protection order from a sister state, and Vermont is currently considering a bill, based on model legislation promulgated by the Uniform Law Commission (ULC), that would authorize Vermont state police to enforce domestic violence protection orders issued in Canada.
Keywords: Enforcement of Canadian Order by State Law-Enforcement; Judicial Enforcement of a Canadian Order

Affiliations: 1: Hastings College of Law.