Innovative Program Increases Legal Services to Domestic Violence Survivors
Author: Casey Gwinn.; Gael Strack.
Source: Volume 24, Number 05, June/July 2019 , pp.71-74(4)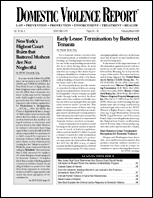 < previous article |next article > |return to table of contents
Abstract:
This article looks at the experience of Francisca, a protective mother who fled Mexico with her infant son to escape an abusive husband, and who took advantage of the services of an innovative justice program to fight a civil action filed in a Mexican court ordering the return of her son. Francisca's case illustrates the benefits of a new type of legal aid, the "incubator" law firm, and specifically the legal incubator developed by Alliance for HOPE International in partnership with Thomas Jefferson School of Law and its director, Professor Lilys McCoy. The San Diego incubator is one of many now proliferating across the country. While most incubators do not focus on domestic violence and sexual assault—they focus on all types people in need of legal services—the San Diego model specializes in serving the legal needs of IPV survivors.
Keywords: Incubator law firms (ILFs); forensic assessment; legal aid

Affiliations: 1: Alliance for HOPE International; 2: Alliance for HOPE International.