Murders of Intimate Partners Are on the Rise
Author: D. Kelly Weisberg.
Source: Volume 24, Number 05, June/July 2019 , pp.69-70(2)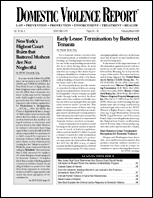 < previous article |next article > |return to table of contents
Abstract:
In a dramatic recent reversal, following four decades of declines, murders of intimate partners are now on the rise. A study by criminologists Emma E. Fridel and James Alan Fox that was published in the most recent issue of Violence and Gender documents this reversal. We briefly summarize its findings and conclusions.
Keywords: Gun-related homicides; VAWA 2019 Reauthorization; "boyfriend loophole"; stalker loophole; Emma E. Fridel; James Alan Fox

Affiliations: 1: Hastings College of Law.