Obstacles to Voting for Survivors of Intimate Partner Violence
Author: Danielle Root.
Source: Volume 24, Number 05, June/July 2019 , pp.69-74(6)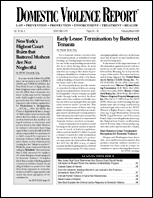 next article > |return to table of contents
Abstract:
Danielle Root is the voting rights manager for Democracy and Government at the Center for American Progress. In this brief, Ms. Root explores some of the unique obstacles to voting experienced by survivors of intimate partner violence, including isolation from important election information and materials; intimidation and violence for asserting their voting preferences; and privacy concerns related to voter registration. In addition, the brief highlights recommendations for helping to ensure that survivors of intimate partner violence can make their voices heard in the democratic process without fear of violence or retribution on the part of an abuser. This article is reprinted with permission. It is available free online at https://www.americanprogress.org/issues/democracy/reports/2018/11/01/460377/obstacles-voting-survivors-intimate-partner-violence/.
Keywords: Barriers in the Voting Process for Individuals Experiencing Intimate Partner Violence

Affiliations: 1: Center for American Progress.