Blurred Lines: The Intersections of Gendered Harm in Rural Australia
Author: Skye Saunders.
Source: Volume 23, Number 05, June/July 2018 , pp.69-72(4)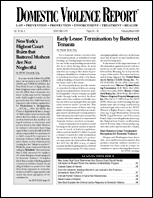 < previous article |next article > |return to table of contents
Abstract:
With special focus on rural Australia, this article examines the relationship between the gendered harm that takes place in the workplace Context (referred to as "sexual harassment")and the private context ("intimate partner violence") using first-person interviews with women miners, sheep herders, and station hands from the Outback.
Keywords: Continuum of Gendered Harm

Affiliations: 1: Australian National University College of Law.