Case Summaries: Evidence of Prior Bad Acts
Author: Annie L. Perry.; Julie Saffren, J.D..
Source: Volume 23, Number 05, June/July 2018 , pp.70-72(3)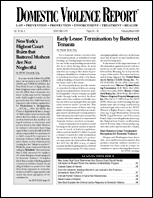 < previous article |next article > |return to table of contents
Abstract:
Evidence of the defendant's prior bad acts is typically relevant and admissible in domestic violence cases for limited purposes. The case summaries in this issue limited purposes.
Keywords: State v. Phillips, 906N.W.2d 411 (S.D. 2018); State v. Dorsey, 379 Wis.2d 386 (Wis. 2018); Garrison v. State, 409 P.3d 1209 (Wyo. 2018); City of Cleveland v. Reynolds, 2018 WL 386657 (Ohio Ct. App. 2018)

Affiliations: 1: Contributing Editor; 2: Associate Editor.