Domestic Violence Shapes Practitioners' Work in Rural Communities
Author: Sarah Wendt.
Source: Volume 23, Number 05, June/July 2018 , pp.67-70(4)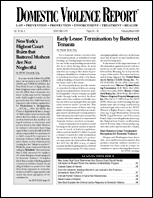 < previous article |next article > |return to table of contents
Abstract:
Geographical and social isolation are key factors that shape practitioners living and working in rural communities. A recent study in Australia found that providing services to vast and sparely populated settlements raises safety challenges for practitioners responding to domestic violence This article draws on focus group interview data from managers and practitioners living and working in regional settings in South Australia and Western Australia. The study found that outreach work requires time and planning in the context of crisis demands, but also time and planning to cover large distances safely for the worker and women seeking help, and adds a layer of potential risk to practitioner safety when trying to reach isolated women who are experiencing violence and abuse at the hands of an intimate partner.
Keywords: Outreach, service, and advocacy in isolated areas

Affiliations: 1: Flinders University, Australia.