Healthcare Provider Screening for Dating Violence
Author: Vijay Singh.
Source: Volume 23, Number 03, February/March 2018 , pp.37-39(3)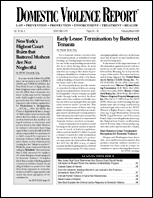 < previous article |next article > |return to table of contents
Abstract:
The United States Preventive Services Task Force guidelines recommend that clinicians should screen women of childbearing age 14-46 for partner violence victimization and provide or refer adolescents and women who screen positive to intervention services. Yet, despite the high prevalence of dating violence and national guidelines recommending screening, studies reveal that only 30% of adolescents report having been screened for dating violence. The author conducted a study of emergency department admissions at a Level 1 trauma center, screening more than 4,000 males and females ages 14-20. More than 15% of adolescents in the sample reported dating violence in the past year. Almost one in five females and one in eight males reported such past-year victimization. This article summarizes the results of the author's research, and draws useful conclusions about how to improve screening and intervention for adolescent dating violence.
Keywords: Dating Violence and Associated Health Conditions; Screening on ED Admission

Affiliations: 1: University of Michigan Medical School.