Case Summaries: Warrantless Searches Upheld and Struck Down
Author: Annie L. Perry.; Julie Saffren, J.D..
Source: Volume 23, Number 03, February/March 2018 , pp.40-41(2)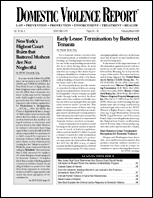 < previous article |next article > |return to table of contents
Abstract:
This issue's Case Summaries examines recent cases in which searches conducted without a prior warrant have been upheld and domestic abusers convicted on the evidence obtained; and other cases in which warrantless searches have been ruled inadmissible and convictions reversed. In a Seventh Circuit decision, complaints of sexual assault and domestic violence led to a warrantless search and firearm possession conviction. Conversely, an Oregon Appeals Court ruling illustrates why the emergency aid exception to a warrantless search must be based on an actual belief that a victim needed assistance (not merely a desire to "find out") and that consent to a search of one's home is very different from acquiescence to an officer's statement that he or she is going inside. Similarly, in Massachusetts, the state's Supreme Judicial Court invalidated the service of a restraining order during a traffic stop, ruling that the state's domestic violence statute "cannot authorize a stop in the absence of a constitutional justification, such as a warrant, reasonable suspicion of criminal activity or a civil traffic violation, or a reasonable belief that emergency intervention is required."
Keywords: U.S. v. Jones , 861 F.3d 638 (7th Cir. 2017); State v. Stanley, 404 P.3d 1100 (Ore. Ct. App. 2017); Commonwealth v. Sanborn, 77 N.E. 3d 274 (Mass. 2017)

Affiliations: 1: Contributing Editor; 2: Associate Editor.