Health Consequences of Teen Dating Abuse Among African-American and Latino Youth
Author: Lisa Fedina.; Kantahyanee W. Murray.
Source: Volume 23, Number 03, February/March 2018 , pp.35-38(4)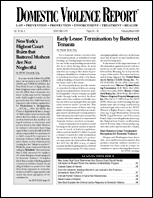 next article > |return to table of contents
Abstract:
This article reports on a study conducted by the authors to examine the sexual and reproductive health consequences of teen dating abuse, including the overlap between victimization and perpetration, among youth of color living in urban, low-income communities. Findings from this study demonstrating strong correlations between teen dating abuse victimization, perpetration, sexual health outcomes, and risk behaviors suggest a strong need to intervene through a range of prevention platforms where at-risk youth are served.
Keywords: Abuse Victimization and Teen Pregnancy; Sexual Risk Behaviors; Sociocultural Context for Teen Victimization

Affiliations: 1: University of Maryland, Baltimore; 2: Annie E. Casey Foundation.