Stalking Case Summaries: Orders of Protection
Author: Annie L. Perry.
Source: Volume 22, Number 05, June/July 2017 , pp.79-81(3)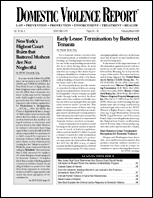 < previous article |next article > |return to table of contents
Abstract:
A summary of important appellate rulings from around the country focused on the terms of orders of protection arising from incidents of stalking. We review cases from Ohio, New Hampshire, and California in which courts have found sufficient grounds for issue and enforcing protective orders when ex-partners have been menaced by stalking.
Keywords: Barrett v. Barrett; Mallios v. Mallios; Sadira v. Mein; Sathokvorasat v. Snyder

Affiliations: 1: Contributing Editor.