Complete Issue
Author: TK Logan.; Elaina Roberts.; D. Kelly Weisberg.
Source: Volume 22, Number 05, June/July 2017 , pp.69-88(20)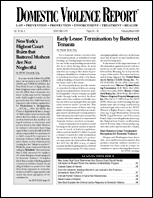 < previous article |return to table of contents
Abstract:
This issue of DVR, as well as the next issue, are devoted to understanding, assessing, and intervening in stalking cases. It has been over 20 years since state and federal anti-stalking laws have been implemented. Yet few stalking cases, relative to the number of stalking incidents, formally go through the criminal justice system and end in conviction. Over the past two decades, numerous advocates, attorneys, prosecutors, judges, police, and researchers have devoted their attention to increasing knowledge about, identification of, understanding of, and intervention in, stalking. These two issues of DVR bring together some new ways of thinking about stalking within special populations that have unique vulnerabilities along with new tactics of stalkers to broaden our understanding of the "big picture" of stalking. This issue features special Guest Editors TK Logan and Elaina Roberts. TK Logan, Ph.D., is Professor, Department of Behavioral Science, College of Medicine, and the Center on Drug and Alcohol Research at the University of Kentucky. Her research and writing focus on stalking, protective order effectiveness, sexual assault, intimate partner homicide, and health disparities of rural women with partner violence experiences. She is an author on over 140 research articles and serves on the editorial board of two international journals. She is currently the principal investigator on five different projects that evaluate a variety of substance abuse treatment programs. Elaina Roberts, is Legal Director of the Stalking Resource Center. She provides training and technical assistance to criminal justice and allied professionals on the crime of stalking across the U.S. She is a former prosecutor from Albuquerque, NM.
Keywords: Stalking; Elderly Victims of Stalking; Stalking on Campus; Stalking and Tribal Law Systems; Immigrants and Stalking; Social and Economic Impacts of Stalking

Affiliations: 1: University of Kentucky College of Medicine; 2: Stalking Resource Center; 3: Hastings College of Law; Editor Domestic Violence Report.