Stalking on Tribal Land: Prevalence, Dynamics, Jurisdiction
Author: Dee Koester.; Germaine Omish-Lucero.; Dawn Stover.
Source: Volume 22, Number 05, June/July 2017 , pp.77-78(2)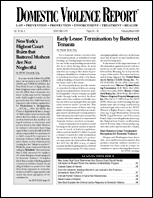 < previous article |next article > |return to table of contents
Abstract:
This article examines the unique jurisdictional issues that can complicate the prevention and prosecution of stalking against native women or within tribal communities.
Keywords: Jurisdiction Over Native American Lands; Tribal Sovereignty

Affiliations: 1: Alliance of Tribal Coalitions To End Violence (ATCEV); 2: ACTEV; 3: ACTEV.