Assessing Lethality to Support Asylum Claims Based on Intimate Partner Violence
Author: Laurie Cook-Heffron.
Source: Volume 21, Number 06, August/September 2016 , pp.91-94(4)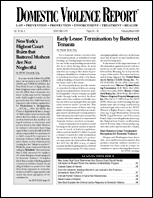 < previous article |next article > |return to table of contents
Abstract:
This article examines the use of lethality assessments in U.S. procedures for making asylum determinations. Global estimates suggest that one-third of the world's women experience some type of interpersonal violence. The author focuses on the asylum claims of women in the Northern Triangle of Central America—El Salvador, Guatemala, and Honduras—where rates of violence against women are extremely high.
Keywords: Migration; asylum; "Matter of L-R;" "Matter of A-R-C-G"

Affiliations: 1: University of Texas.