Machine Learning Risk Assessment at Preliminary Arraignments for Domestic Violence
Author: Richard A. Berk.; Susan B. Soreson.; Geoffrey Barnes.
Source: Volume 21, Number 06, August/September 2016 , pp.93-95(3)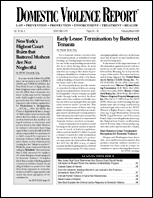 < previous article |next article > |return to table of contents
Abstract:
The authors applied machine learning procedures to data from over 28,000 domestic violence arraignments in a major metropolitan area in order to determine which factors were most important in accurately predicting future violent offenses. "Machine learning" is a relatively new approach to risk assessment in the criminal justice field, but is finding more and more support because its use of algorithms, rather than models, has proved more reliable. This article summarizes the basic principles of machine learning as applied to the prediction of domestic violence.
Keywords: Actuarial risk assessment

Affiliations: 1: University of Pennsylvania; 2: University of Pennsylvania; 3: Cambridge University.