Intimate Partner Sexual Violence Poses Risk Factor for Homicide
Author: Meredith Bagwell-Gray.
Source: Volume 21, Number 06, August/September 2016 , pp.89-95(7)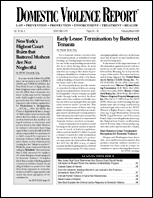 < previous article |next article > |return to table of contents
Abstract:
Data suggests that coerced sex is correlated with homicide, and that two homicide indicators—threats to kill and strangulation—are associated with intimate partner sexual violence. Women who experience forced sex are more likely to state that their abusive partners display jealousy, an important triggering event related to homicide. This article provides a qualitative descriptive study of women's sexual violence in intimate relationships and specifically, examines how women's experiences of intimate partner sexual violence are concomitant with near lethal violence.
Keywords: Sexual assault and domestic violence

Affiliations: 1: Arizona State University.