Using Judicial Knowledge of Lethality Factors in Civil Domestic Violence Matters
Author: Julie Saffren.
Source: Volume 21, Number 05, June/July 2016 , pp.73-77(5)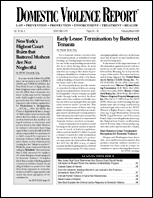 < previous article |next article > |return to table of contents
Abstract:
Given the variety of ways that danger may be assessed by different professionals and how the resulting information is used and by whom, this article asks: What do civil judges need to know about dangerousness and lethality and how can that information properly be used? The Kentucky Supreme Court published a unanimous decision in Pettingill v. Pettingill that helps answer that question. The Lethality "Bench Guide" developed by Jacquelyn Campbell and the Hon. Sharon Chatman of the Superior Court of California, County of Santa Clara, is also included here.
Keywords: Pettingill v. Pettingill; Standard Order to Obtain Protection; Lethality "Bench Guide"; "Judicial Notice" and "Judicial Knowledge"

Affiliations: 1: Santa Clara University School of Law.