Using Danger Assessment in the Prosecution of Domestic Violence Cases
Author: Jamie Balson, J.D., M.S.W..
Source: Volume 21, Number 05, June/July 2016 , pp.75-77(3)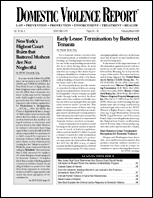 < previous article |next article > |return to table of contents
Abstract:
Lethality assessments are a valuable tool for prosecutors who charge and try cases involving domestic violence (DV). The assessment can be used to help the prosecutor develop insight into the relationship and the type of control an abuser has over a domestic violence victim, and to provide information to more effectively use the court process to help keep the victim safe. This article examines the specific ways in which prosecutors can most effectively use lethality assessments—and also addresses their limitations, as well, especially with respect to rules of evidence and admissibility.
Keywords: Lethality Assessment; Admissibility; Evidentiary Rules

Affiliations: 1: Arizona Coalition to End Sexual & Domestic Violence.