Policing Partner Abuse and the New Crime of Coercive Control in the United Kingdom
Author: Evan Stark.
Source: Volume 21, Number 04, April/May 2016 , pp.55-58(4)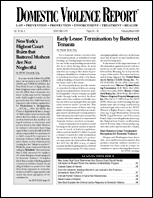 < previous article |next article > |return to table of contents
Abstract:
This article, the third is a series by Dr. Stark on the European response to intimate partner abuse, provides an overview of police practices in the United Kingdom. Newly enacted statutes now explicitly recognize coercive and controlling behavior even when physical injury is not present, and provide detailed, conceptually driven statutory, police, and prosecutorial guidelines for the domestic violence offenses.
Keywords: Domestic Abuse, Stalking, Harassment and Honor Based Violence Risk Identification; U.K. Policing Reform

Affiliations: 1: Rutgers University.