Case Summaries on Police Liability
Author: Annie L. Perry.
Source: Volume 21, Number 04, April/May 2016 , pp.57-59(3)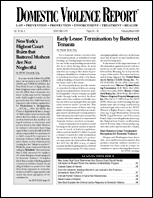 < previous article |next article > |return to table of contents
Abstract:
Our regular review of important court decisions includes cases in which the police were largely supported in their efforts to intervene in violent domestic violence confrontations, and one case in which a police department that failed to follow up on repeated pleas for help was nevertheless found not liable. In a case from California, police officers who shot and killed a man when called to a 911 call where the man was attacking his ex-wife were found justified in their response; an Eighth Circuit ruling found a Nebraska police department not liable for failing to take official action against an ex-spouse after repeated claims of harassment by his former wife; a district court ruling in New Jersey upheld the conduct of police officers who had made an arrest without interviewing the suspect in the course of responding to an active domestic violence incident; a Sixth Circuit decision upheld a firearm conviction resulting from a stop on another matter; and an Ohio ruling affirmed a protective order supported by police officer testimony.
Keywords: Police negligence and civil liability; dominant aggressor strategy; Armed Career Criminal Act; civil protection orders; "he said/she said"

Affiliations: 1: Contributing Editor.