Confronting Gender Bias in Policing
Author: Diane Wetendorf.
Source: Volume 21, Number 04, April/May 2016 , pp.53-56(4)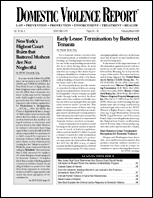 < previous article |next article > |return to table of contents
Abstract:
In the mid-1990s, Diane Wetendorf developing the nation's first advocacy program working specifically with victims of police-perpetrated domestic violence. This article examines the persistent gender-biased response among law enforcement to sexual assault and domestic violence victims, how gender bias undermines effective police response, and efforts to reverse its pernicious effects including policies, training, and supervision protocols. © 2016, Diane Wetendorf.
Keywords: Police-perpetrated domestic violence; Thurman v. City of Torrington

Affiliations: 1: Consultant.